Today, Coverdash the leading embedded insurtech specializing in business insurance, and 1840 & Company, a leading global platform for human capital and freelance talent solutions, announced a strategic partnership to revolutionize the way businesses, startups, and freelancers protect their professional assets, projects, and services.
A Broad Range of Tailored Insurance Solutions
By leveraging Coverdash's cutting-edge embedded insurance experience, participants in 1840 & Co.'s marketplace, including freelancers and rapidly growing companies seeking to hire top talent, now have access to the comprehensive business insurance coverage necessary to protect both clients and freelancers from potential liabilities and risks. This includes General Liability, Professional Liability, Business Owner's Policy, Worker's Compensation, Cyber Insurance, and Management Liability. This groundbreaking collaboration ensures that businesses and freelancers can operate with confidence, knowing they are adequately covered in an ever-evolving professional landscape.
Innovative Approach for Businesses & Freelancers
Coverdash's relationships with many of the world's most recognized insurers, combined with 1840's innovative approach to talent acquisition and business growth, ensures that both businesses and freelancers have access to insurance solutions uniquely suited to their needs. Coverdash's insurance offerings are designed to provide robust protection for small businesses, larger corporations, or individual freelancers who are not yet incorporated.
Effortless Process for Instant Coverage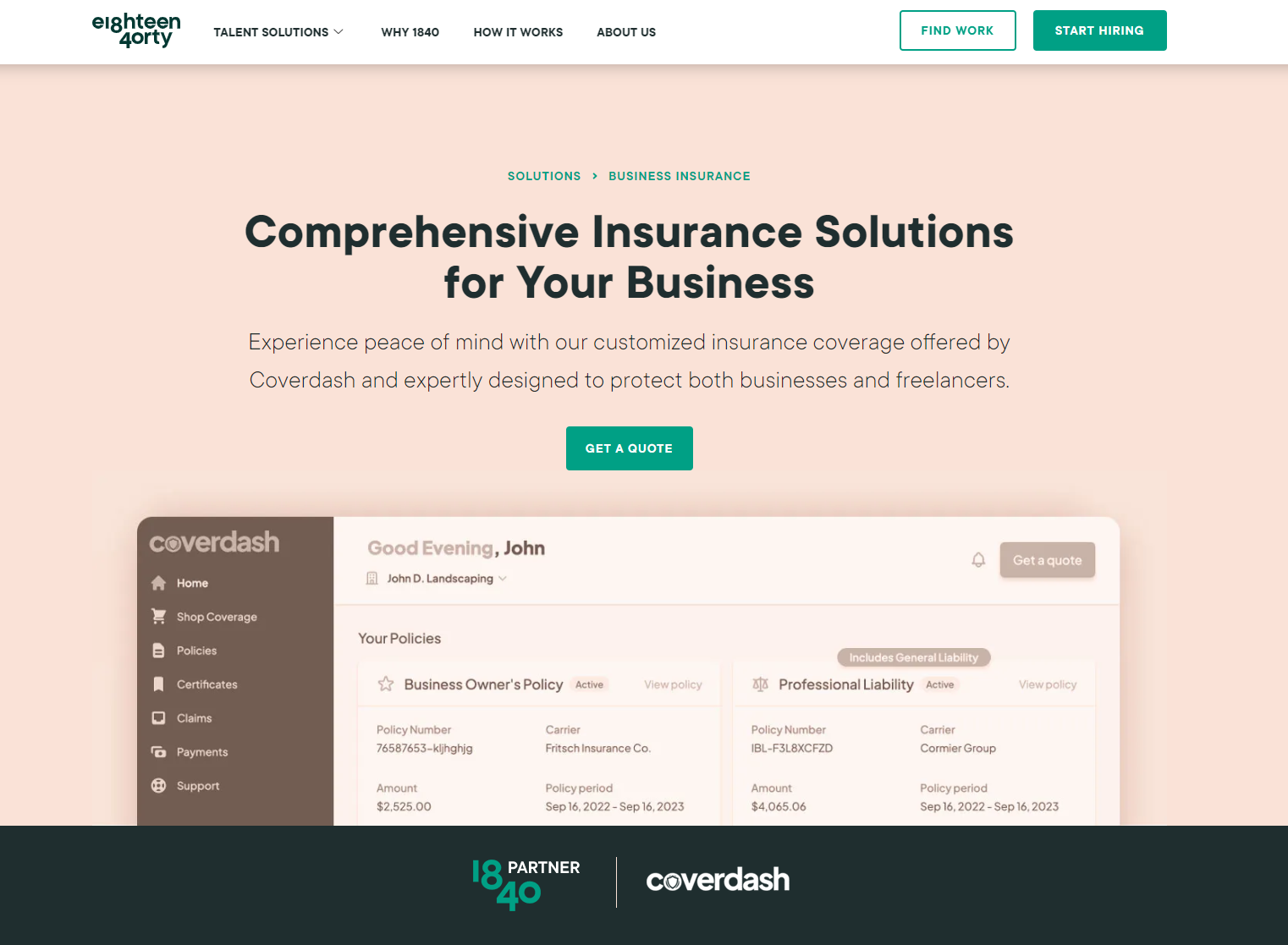 Obtaining coverage is now a smooth and hassle-free journey for 1840 customers and freelance market participants comprising of three straightforward steps:
Step 1: Fill out a form with key details about your business or freelance services.
Step 2: Based on your needs, you'll be provided with a set of quotes for a range of customized insurance products.
Step 3: Complete the checkout process and obtain instant access to your policy documents and certificates of insurance.
"1840's partnership with Coverdash is a testament to our dedication to providing our clients with comprehensive solutions for every aspect of their business," states Bryan DiGiorgio, CEO and founder of 1840 & Company. "Not only do we help you hire and manage the best remote talent, but we also ensure that you're protected with tailored insurance solutions."
"We are thrilled to partner with 1840 & Co. in revolutionizing the way businesses and freelancers protect their professional assets," says Ralph Betesh, CEO and co-founder of Coverdash. "This partnership showcases our agility and commitment to delivering innovative solutions quickly. In less than a week, we stood up this embedded integration, and Coverdash is ready to support the needs of all 1840 marketplace participants."
Learn More
Interested in learning more about 1840's new business insurance solutions? Visit https://www.1840andco.com/business-insurance to discover a customizable insurance plan for you.
---
About Coverdash
Coverdash is a fully digital business insurance agency that specializes in serving the insurance needs of businesses of all shapes and sizes. Coverdash's embedded technology enables any partner to host its end-to-end insurance experience with a single line of code. Coverdash is headquartered in New York and is a licensed insurance agency across all 50 states.
Interested in partnering with Coverdash? Check out: https://www.coverdash.com/partner
About 1840 & Company
Founded with the vision of revolutionizing the future of work, 1840 & Company provides global, vetted talent and teams to businesses seeking sustainable growth. With a reach across 150 countries, their services span from providing vetted freelancers and outsourced teams to direct placement of core employees. 1840's approach is focused on reducing structural costs and providing scalability, facilitating an efficient, data-driven, and compliant working environment.